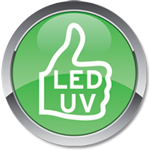 Natural white gel for the French manicure look.
UV Gel Flux French White
Now the light curing French manicure is an experience to enjoy! Our Flux French White is a light curing gel for the French manicure look. This thin consistency gel doesn't withdraw from the side walls when applied, and is thin on curing like nail polish. This makes it even possible to apply directly under the sealing gel. Flux French White has a naturally beautiful white pigment content without any "Tipp-Ex" effect.

Curing time: UV: 2 minutes; LED 60 seconds.
Available in 15 ml.