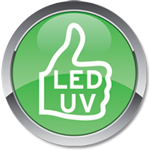 Colour gel with a metallic sheen.
UV/LED Gel Flux Cosmic
With the metallic shine of our Flux Cosmic gel range you can create a durable spacey gleam on the nails of your customers. Can be used as a French gel and sealing gel.
Available in the following colours:
- cosmic caramel 01,
- milkyway coffee 02,
- cyber green 03,
- supernova chocolate 04,
- space black 05.
Curing time: UV: 2 minutes; LED 60 seconds.