UV/LED Gel Polish - Flux UV Polix Effects - 10ml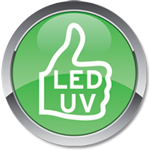 Create fantastic effects with our UV Polix Gel Polish colours.
Gel Polish - Flux UV Polix Effects - 10ml
You can use Flux UV Polix Effects to create brilliant colour and holographic 3D effects with all of our standard UV Polix Gel Polish colours. The effects work especially well on dark and black UV Polish colours, but are also great with bright colours or with no background as a subtle colour effect.

Available in :
space pearl silver 01, a white/silver colour with mother of pearl effect, gives light colours a delicate pearl effect and on dark colours creates a wonderful silver pearl coating.
space particle gold 02, creates a holographic gold partical effect on all colours.
space pearl copper 03, copper coloured delicate pearl effect.
space particle purple 04, purple coloured particles create a holographic effect, especially good on dark colours (see example picture).
space particle blue 05, blue particles on a dark background creating a great floating effect.

Comes in a 10ml nail polish bottle.
Curing time: UV: 2 minutes; LED 60 seconds.
Product Application Information (in German)
GelPolish-Produkte richtig anwenden.
Bei GelPolish oder auch Gellack handelt es sich um ein Hybridprodukt zwischen Gel und Lack. In der Konsistenz und der Anwendung quasi wie ein Nagellack. Im Verarbeitungsprozess aber wie UV/LED Gel. Diese Produkte können direkt auf Naturnägeln angewendet werden und erzeugen durch die Ausbildung einer festen Kunststofffläche eine leichte Verstärkung des Naturnagels.
Vorbereitung des Naturnagels:
Bringen Sie den Naturnagel in die gewünschte Form und entfernen Sie die natürliche, leicht fettige Schutzschicht des Naturnagels mit einem weichen Buffer.
Auftrag des Gellacks
Um Farbeinlagerungen des farbigen Gellacks in den Naturnagel zu verhindern, empfiehlt es sich, wie auch bei normalem Nagellack, einen Unterlack aufzutragen. Wir bieten dazu unser Produkt Polix Base & Top (UVBT) an. Alternativ dazu können Sie auch Flux Polix Easy Off Base (UVBA) oder Flux Polix Enforce (UVEN) verwenden. Je nach Wahl das Produkt dünn auf den Naturnagel aufstreichen und unter UV: 2 Minuten/LED 60 Sekunden aushärten. Der Dispersionsfilm kann/muss aber nicht vor dem Weiterarbeiten entfernt werden. Tragen Sie jetzt die Gellack-Farbe Ihrer Wahl auf. Je nach Deckkraft des Produkts empfehlen wir eine oder zwei dünne Schichten aufzutragen. Jede Schicht sollte unter UV: 2 Minuten/LED: 60 Sekunden aushärten.
!Wir empfehlen im Zweifel lieber zwei dünne Schichten als eine zu dicke Schicht aufzutragen, um zu gewährleisten, dass das Material vollständig durchhärten kann!
Ist die Farbe vollständig ausgehärtet sollte nun noch eine Schicht Base & Top als Versiegelung aufgetragen und unter UV: 2 Minuten/LED 60 Sekunden ausgehärtet werden. Danach den Dispersionsfilm mit Cleaner entfernen.
TIPP: wir empfehlen den Dispersionsfilm des Farb-Gellacks vor dem Auftragen des Base & Tops abzucleanern. Da im Dispersionsfilm immer auch Farbpigmente enthalten sind, würden Sie sich sonst den Base & Top verunreinigen, was dazu führt, dass dieser mit der Zeit eine schmutzig-graue Farbe bekommt und damit vor allem auf hellen Farben nicht mehr angewendet werden kann.
Product Safety Information (in German)
- nur für gewerbliche Verwendung
- Anwendungshinweise bitte sorgfältig lesen
- kann allergische Reaktionen verursachen
- darf nicht in die Hände von Kindern gelangen
- außer Reichweite von Kindern aufbewahren
- vor Hitze und offener Flamme schützen
- Hautkontakt vermeiden
Laut KVO sind wir verpflichtet negative Wirkungen von kosmetischen Produkten zu dokumentieren. Sollten Sie eine andere als angebene negative Wirkung nach Anwendung des Produktes bei sich beobachten teilen Sie uns dies bitte mit.