UV/LED Gel Polish - Flux UV Polix Glitter - 10ml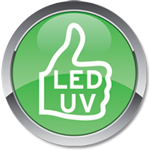 UV Gel Polish in fantastic glitter colours.
Gel Polish Flux UV Polix Glitter - 10ml
Gel Polish Flux UV Polix is a unique hybrid between light-curing UV Gel and high-quality nail polish. It is thin and easy to apply like nail polish but as durable as a UV Gel. Now available in fantastic glitter colours.
Curing time: UV: 2 minutes; LED 60 seconds.
Comes in a 10ml bottle with brush.
Polish and Go!
You can apply Flux UV Polix to unprepared nails just like conventional nail polish, cure for 2 minutes under a UV or LED light source and then remove the dispersion film. The finished nail will last for approximately 2 weeks. For a deeper shine seal with a clear nail polish or we recommend our Flux UV Polix Base & Top sealer. Compared to conventional nail polish UV Polix Gel Polish has a quick drying time and is substantially more scratch and impact resistant than nail polish. Gel Polish will not start to dry as you apply it like nail polish, making it easier to achieve a smooth flat finish. In order to avoid colour retention from the natural nail, we recommend you use Flux UV Polix Base & Top as a base coat.
To increase the durability of the finished nail you can:
1. Remove any fat or grease from the nail with a fine buffer.
2. Apply a layer of Flux Super Bond and allow to dry briefly.
3. Apply a basecoat layer of Flux UV Polix Base & Top and cure for 2 minutes under a UV or LED light source.
4. Now apply a thin layer of Flux UV Gel Polish and cure for 2 minutes under a UV or LED light source.
5. Apply a second layer of Flux UV Polix Base & Top as a top coat / sealer.
6. Remove the dispersion film.
Make sure you apply Flux UV Polix thinly, if the Gel Polish layer is too thick the polish will not cure properly and may create an uneven finish. Apply two thin cured layers rather than one thick layer.
Removal Instructions
Please note that the time required to remove our Flux Polix will increase with the number of layers applied. If you have applied Flux Polix over a Gel or Acryl modeling then the fastest way to remove the product is simply by filing.
Please follow the following steps for the quickest way to remove the product from natural nails.
1.Roughen the surface with a thin nail buffer to increase the working surface for the Remover.
2. Soak the nail for approximately 4 or 5 minutes in nail polish remover.
3. Remove the dissolved layer with a soft buffer instead of a cotton pad.
4. Soak the nail once more in remover for 4 or 5 minutes.
5. Remove the dissolved layer again carefully with a soft buffer.
6. Repeat these steps until the product is completely removed from the nail.
Product Application Information (in German)
GelPolish-Produkte richtig anwenden.
Bei GelPolish oder auch Gellack handelt es sich um ein Hybridprodukt zwischen Gel und Lack. In der Konsistenz und der Anwendung quasi wie ein Nagellack. Im Verarbeitungsprozess aber wie UV/LED Gel. Diese Produkte können direkt auf Naturnägeln angewendet werden und erzeugen durch die Ausbildung einer festen Kunststofffläche eine leichte Verstärkung des Naturnagels.
Vorbereitung des Naturnagels:
Bringen Sie den Naturnagel in die gewünschte Form und entfernen Sie die natürliche, leicht fettige Schutzschicht des Naturnagels mit einem weichen Buffer.
Auftrag des Gellacks
Um Farbeinlagerungen des farbigen Gellacks in den Naturnagel zu verhindern, empfiehlt es sich, wie auch bei normalem Nagellack, einen Unterlack aufzutragen. Wir bieten dazu unser Produkt Polix Base & Top (UVBT) an. Alternativ dazu können Sie auch Flux Polix Easy Off Base (UVBA) oder Flux Polix Enforce (UVEN) verwenden. Je nach Wahl das Produkt dünn auf den Naturnagel aufstreichen und unter UV: 2 Minuten/LED 60 Sekunden aushärten. Der Dispersionsfilm kann/muss aber nicht vor dem Weiterarbeiten entfernt werden. Tragen Sie jetzt die Gellack-Farbe Ihrer Wahl auf. Je nach Deckkraft des Produkts empfehlen wir eine oder zwei dünne Schichten aufzutragen. Jede Schicht sollte unter UV: 2 Minuten/LED: 60 Sekunden aushärten.
!Wir empfehlen im Zweifel lieber zwei dünne Schichten als eine zu dicke Schicht aufzutragen, um zu gewährleisten, dass das Material vollständig durchhärten kann!
Ist die Farbe vollständig ausgehärtet sollte nun noch eine Schicht Base & Top als Versiegelung aufgetragen und unter UV: 2 Minuten/LED 60 Sekunden ausgehärtet werden. Danach den Dispersionsfilm mit Cleaner entfernen.
TIPP: wir empfehlen den Dispersionsfilm des Farb-Gellacks vor dem Auftragen des Base & Tops abzucleanern. Da im Dispersionsfilm immer auch Farbpigmente enthalten sind, würden Sie sich sonst den Base & Top verunreinigen, was dazu führt, dass dieser mit der Zeit eine schmutzig-graue Farbe bekommt und damit vor allem auf hellen Farben nicht mehr angewendet werden kann.
Product Safety Information (in German)
- nur für gewerbliche Verwendung
- Anwendungshinweise bitte sorgfältig lesen
- kann allergische Reaktionen verursachen
- darf nicht in die Hände von Kindern gelangen
- außer Reichweite von Kindern aufbewahren
- vor Hitze und offener Flamme schützen
- Hautkontakt vermeiden
Laut KVO sind wir verpflichtet negative Wirkungen von kosmetischen Produkten zu dokumentieren. Sollten Sie eine andere als angebene negative Wirkung nach Anwendung des Produktes bei sich beobachten teilen Sie uns dies bitte mit.
We found other products you might like!